Let's face it—whether you're the project lead overseeing a busy team or an individual contributor playing a supporting role, it's easy to lose track and momentum. Multitasking on several different platforms with 20 tabs open on your browser while your Slack and email notifications are nonstop can cost you up to 40% of your productivity.
To make sure that nothing falls through the cracks—including your sanity—for deadlines and tasks, you need the right work management tools at your disposal. Considering whether to use Trello or Jira Work Management? Read on to understand their differences and how utilizing them together can actually help you tremendously reduce frustration while streamlining workflows across your teams.
Keep calm and boost productivity with Trello and Jira Work Management—get the best of both worlds when organizing your to-do lists and managing multiple projects. It's a win-win for you and your teams.
Using Trello as a personal productivity hub
Trello is an incredibly flexible tool that helps you visually organize your tasks so that you can stay on top of everything. You can set it up for various use cases, including brainstorms, meetings, planning, and a customer favorite: to-do lists.
Trello is a one-stop shop for all of your work that helps reduce digital clutter. Rather than having to switch back and forth between tabs, tools, files, or folders, you can drop in external tool links called Smart Links. These links allow you to view, edit, and collaborate on pages from tools like Google Docs, Confluence, and Jira from within Trello. When you can work from one centralized place, you boost productivity, completing tasks on time and ensuring no work gets lost or forgotten.
Here are a few other highlights Trello offers:
Intuitive and user-friendly interface
Customizable boards and lists for organizing tasks
Deadline reminders and due-date notifications
Real-time updates for a birds eye-view of project statuses
200+

Power-Ups

to extend functionality and enhance productivity
Using Jira Work Management for project management
Jira Work Management is a robust tool used to manage projects from start to finish. Whether your project is simple or complex, this project management tool is ideal for business teams with cross-functional tasks. It handles dependencies, due dates, collaborators, and related tasks seamlessly, so you can be sure that every piece of the project puzzle is accounted for and can be delivered on time.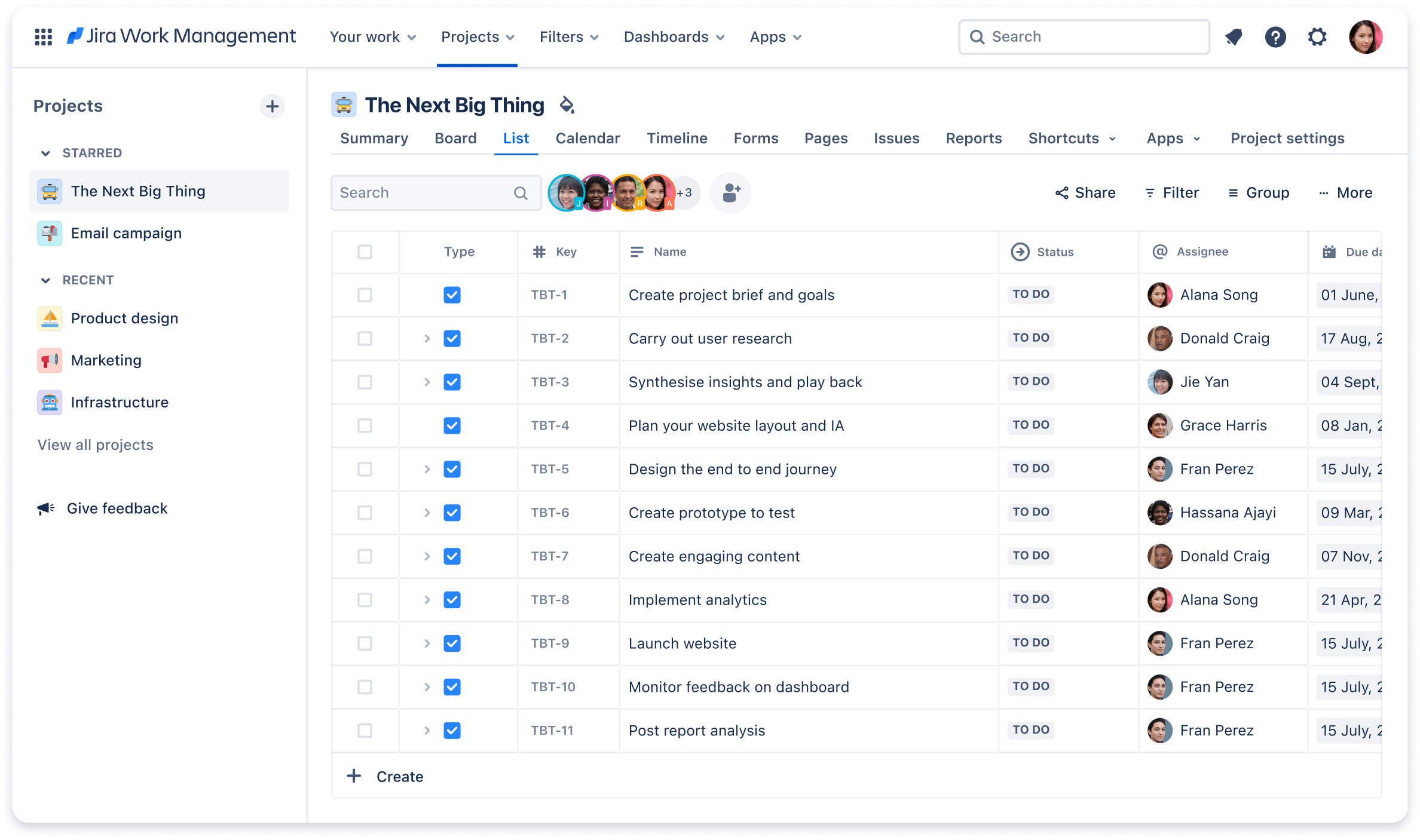 Here are a few highlights Jira Work Management offers:
Robust workflows that streamline complex tasks efficiently
Flexible project views tailored to individual preferences and team needs - board, list, calendar, and timeline
Powerful automations to automate repetitive processes and increase productivity
Cross-team roadmaps for seamless collaboration and alignment across departments
Advanced reporting tools for insightful data analysis and decision-making
With all of these features, Jira Work Management allows teams to collaborate, align, deliver, and report on work–all in one place.
What's the difference between Jira Work Management and Trello?
Jira Work Management is more suited to manage complex projects with a singular goal and multiple dependencies. For example, say you have a task "C" that can only start once task "B" is completed. But task "B" is assigned to someone else and may be dependent on another project (or task "A") being completed prior to that. Jira Work Management can handle managing this process, thanks to its deep integration with Jira Software and native functionality that can visually map dependencies between tasks or projects.
On the other hand, Trello is geared toward those looking for a productivity dashboard. It helps the individual contributor or collaborator who is working on several different projects and work streams at once manage their own work and tasks so nothing slips through the cracks. Though Trello can also be used as a project management tool—and many people are proud users of this use case—the ultimate way to keep your convoluted projects organized and on time is to use Trello alongside Jira Work Management.
How to use Jira Work Management and Trello together
Jira Work Management and Trello have similar functionalities and purposes. Both tools can be used for project management—each has boards, lists, and cards and some overlaps in features, such as checklists, owners, and due dates.
Jira Work Management is where you can manage the actual project work, from planning to delivery to reporting. You can create a new project in Jira Work Management, add tasks and subtasks, customize additional project info, then add deadlines and assignees to each action item. From there, you can manage the entire project in Jira Work Management and customize your workflows and automations as needed.
Trello makes it easy to zoom out and get a snapshot of what's going on in the project, while seeing how it fits into your overall day-to-day work. You can link any Jira Work Management projects and forms to Trello as a Smart Link on your Trello board. This enables you to use Trello to see a high-level view of your work, get more details on your project without leaving Trello, and switch over into Jira Work Management to do the project execution.
Every project is different, and every task has its unique attributes. Play around with Trello's Smart Link features and options to make the Jira Work Management and Trello relationship work for you and your team. There are a few ways you can use Smart Links in Trello, including:
Paste the URL link from Jira into your Trello card title. It will then auto-populate a new card with the page title, images, page description, and more.
Nest your Jira links in Trello and open them as a popup window within Trello.
Use the

Link Picker feature

in attachments to search for and attach files from Jira within Trello, or link asset URLs from Jira directly into a Trello card.
Your work can be done in Trello without ever leaving the Smart Link preview—so you can update task statuses, add new assignees, or change due dates. We've also improved connections with other tools so you can get more done without constantly jumping between numerous tabs and different applications. Not only does this help keep everything in one place, increasing individual productivity, but it also increases visibility into what you and your team members are working on. This can help improve communication and motivate you to get to the finish line on your projects.
Get the best of both worlds with Trello and Jira Work Management
At work, you're constantly juggling multiple projects, tasks, and timelines, trying to keep things moving between meetings. Creating a system using both Trello and Jira Work Management can simplify your processes, increase efficiency, and reduce overwhelm from too many tools in the kitchen, so to speak.
For any organization to deliver at scale, they need an end-to-end solution that brings best of various tools together to handle individual, team, and cross-team work that's happening at the same time. You can keep your teams aligned by using Trello and Jira Work Management separately or together, taking your productivity to the next level.
Ready to get started? It's never been easier to import your Trello work to Jira Work Management. Bring your cross-functional projects into Jira Work Management and unlock more effective collaboration in just a few clicks.
---
Good or bad, we'd love to hear your thoughts. Find us on Twitter (@trello)!