If you're a Type A personality, project planning might sound like music to your ears. Setting deadlines, organizing tasks, and creating order out of chaos — what's not to love?
The reality is that project planning isn't for everyone. In one survey by Association for Project Management, 76% of project professionals said their main project was a source of stress. Poor planning, unclear responsibilities, and overallocation are often the culprits behind the stress.
An effective project plan helps teams stay within budget, scope, and schedule, while delivering quality work. In short, it gets you to the finish line without the stress.
What is a project plan?
A project plan, also known as a work plan, is a blueprint of your project lifecycle. It's like a roadmap — it clearly outlines how to get from where you are now (the beginning of the project) to where you want to go (the successful completion of the project).
"A project plan is an action plan outlining how…[to] accomplish project goals," says Jami Yazdani, certified Project Management Professional (PMP), project coach, project management consultant, and founder of Yazdani Consulting and Facilitation.
A comprehensive project plan includes the project schedule, project scope, due dates, and deliverables. Writing a good project plan is key for any new, complex project in the pipeline.
Why Are Project Plans Important?
Project plans allow you to visualize your entire project, from beginning to end—and develop a clear strategy to get from point A to point B. Project plans steer stakeholders in the right direction and keep team members accountable with a common baseline.
Project plans help you stay agile
Projects are bound by what is traditionally called the "iron triangle" of project management. It means that project managers have to work within the three constraints of scope, resources (project budget and teams), and schedule. You cannot make changes to one without impacting the other two.
Modern-day project management has shifted to a more agile approach, with a focus on quality. This means that resources and schedules remain unchanged but a fixed number of iterations (flexible scope) helps teams deliver better quality and more value.
A project plan puts this "agile triangle" in place by mapping out resources, schedules, and the number of iterations — sprints if you're using a Scrum framework and work in progress (WIP) limits if you're using the Kanban methodology.
As Yazdani points out, "Project plans help us strategize a path to project success, allowing us to consider the factors that will impact our project, from stakeholders to budget to schedule delays, and plan how to maximize or mitigate these factors."
Project plans provide complete visibility
A project plan, when created with a comprehensive project management software, gives you 360-degree visibility throughout the project lifecycle.
As a project manager, you need a single source of truth on team members and their project tasks, project scope, project objectives, and project timelines. A detailed project plan gives you this visibility and helps teams stay on track.
Foster team collaboration by making tasks visible on a centralized board.
Project plans also help to get everyone involved on the same page, setting clear expectations around what needs to be accomplished, when, and by who.
"Project plans create a framework for measuring project progress and success," says Yazdani. "Project plans set clear expectations for...stakeholders by outlining exactly what...will [be accomplished] and when it will be delivered."
Project plans boost engagement and productivity
A well-written project plan clarifies how each individual team member's contributions play into the larger scope of the project and align with company goals. When employees see how their work directly impacts organizational growth, it generates buy-in and drives engagement, which is critical to a project's success.
"Project plans provide...teams with purpose and direction," says Yazdani. "Transparent project plans show team members how their individual tasks and responsibilities contribute to the overall success of the project, encouraging engagement and collaboration."
How To Write A Project Plan in 6 Steps
Writing a project plan requires, well, planning. Ideally, the seeds for a project plan need to be sowed before internal project sign-off begins. Before that sign-off, conduct capacity planning to estimate the resources you will need and if they're available for the duration of the project. After all, you want to set your teams up for success with realistic end dates, buffer time to recharge or catch up in case of unexpected delays, and deliver quality work without experiencing burnout.
Based on organizational capacity, you can lay down project timelines and map out scope as well as success metrics, outline tasks, and build a feedback loop into your project plan. Follow these project planning steps to create a winning plan:
1. Establish Project Scope And Metrics
Defining your project scope is essential to protecting your iron, or agile, triangle from crumbling. Too often, projects are hit with scope creep, causing delays, budget overruns, and anxiety.
"Clearly define your project's scope or overall purpose," says Yazdani. "Confirm any project parameters or constraints, like budget, resource availability, and timeline," says Yazdani.
A project purpose statement is a high-level brief that defines the what, who, and why of the project along with how and when the goal will be accomplished. But just as important as defining your project scope and purpose is defining what metrics you're going to use to track progress.
"Establish how you will measure success," says Yazdani. "Are there metrics, performance criteria, or quality standards you need to meet?"
Clearly defining what your project is, the project's overall purpose, and how you're going to measure success lays the foundation for the rest of your project plan—so make sure you take the time to define each of these elements from the get-go.
2. Identify Key Project Stakeholders
Get clarity on the team members you need to bring the project to life. In other words, identify the key stakeholders of the project.
"List individuals or groups who will be impacted by the project," says Yazdani.
In addition to identifying who needs to be involved in the project, think about how they'll need to be involved—and at what level. Use a tool like Confluence to run a virtual session to clarify roles and responsibilities, and find gaps that need to be filled.
Let's say you're managing a cross-functional project to launch a new marketing campaign that includes team members from your marketing, design, and sales departments.
When identifying your key stakeholders, you might create different lists based on the responsibility or level of involvement with the project:
Decision-makers (who will need to provide input at each step of the project)
Managers (who will be overseeing employees within their department)
Creative talent (who will be actually creating the project deliverables for the campaign) from each department.
Give your project plan an edge by using a Confluence template like the one below to outline roles and responsibilities.
Define roles, discuss responsibilities, and clarify which tasks fall under each teammate's purview using this Confluence template.
Getting clarity on who needs to be involved in the project—and how they're going to be involved—will help guide the rest of the project plan writing process (particularly when it comes to creating and assigning tasks).
3. Outline Deliverables
Now is the time to get granular.
Each project milestone comprises a series of smaller, tangible tasks that your teams need to produce. While a big-picture view keeps teams aligned, you need signposts along the way to guide them on a day-to-day or weekly basis. Create a list of deliverables that will help you achieve the greater vision of the project.
"What will you create, build, design, produce, accomplish or deliver?" says Yazdani. "Clearly outline your project's concrete and tangible deliverables or outcomes." Centralize these deliverables in a Trello board with designated cards for each one, like in the example below, so you keep work moving forward.
Each card on a board represents tasks and ideas and you can move cards across lists to show progress.
Defining the concrete items you need your project to deliver will help you reverse-engineer the things that need to happen to bring those items to life—which is a must before moving on to the next step.
4. Develop Actionable Tasks
Task management is an important component of any project plan because they help employees see what exactly they need to accomplish. Drill down those deliverables into actionable tasks to assign to your team.
You can use either Confluence or Jira for different task management needs. If you want to track tasks alongside your work, like action items from a meeting or small team projects, it's best to use Confluence. But if a project has multiple teams and you need insight into workflows, task history, and reporting, Jira makes it easy.
"Let your deliverables guide the work of the project," says Yazdani. "Break down each deliverable into smaller and smaller components until you get to an actionable task." If a major deliverable is a set of content pieces, the smaller actionable tasks would be to create topic ideas, conduct research, and create outlines for each topic.
Once you've broken down all of your deliverables into manageable, assignable subtasks, analyze how each of those tasks interacts with each other. That way, you can plan, prioritize, assign, and add deadlines accordingly.
"Highlight any dependencies between tasks, such as tasks that can't be started until another task is complete," says Yazdani. "List any resources you will need to accomplish these tasks."
When a task has multiple assignees, you need to streamline the workflow in your project plan. Say the content pieces you outlined need to be edited or peer-reviewed. A couple of articles may need an interview with a subject matter expert. Lay down a stage-by-stage process of each piece of content and pinpoint when each team member comes into play so you prevent bottlenecks and adjust timeframes.
5. Assign Tasks And Deadlines
Assign tasks to your team and collaborate with employees to set deadlines for each task. When you involve employees in setting workloads and deadlines, you increase ownership and boost the chances of delivering quality work on time.
After all, you want to move projects forward at a steady pace, but you also want to make sure your teams stay motivated and engaged. So, when writing your project plan, make sure to "set realistic and achievable deadlines for completing tasks and deliverables," says Yazdani. "Highlight dates that are inflexible and factor in task dependencies. Add in milestones or checkpoints to monitor progress and celebrate successes."
Use Jira and Confluence to create tasks that live alongside your project plan or meeting agendas.
Once you map out all of your tasks and deadlines, you should have a clear picture of how and when your project is going to come together—and the initial writing process is just about finished.
But that doesn't mean your project plan is complete! There's one more key step to the process.
6. Share, Gather Feedback, And Adjust The Project Plan As Necessary
While steps 1 through 5 may make up your initial writing process, if you want your project plan to be as strong and complete as it can be, it's important to share it with your team—and get their input on how they think it can be improved.
"Share the plan with your project team and key stakeholders, gathering feedback to make adjustments and improvements," says Yazdani.
A tool like Confluence helps knowledge flow freely within teams and departments, leading to better teamwork, higher collaboration, and a shared understanding of priorities. Coworkers can use comments, mentions, notifications, and co-editing capabilities to provide and discuss feedback.
After you gather your team's feedback—and make any necessary adjustments based on that feedback—you can consider your project plan complete. Hooray!
But as your project progresses, things may change or evolve—so it's important to stay flexible and make changes and adjustments as needed.
"Expect to update your plan as you gather more information, encounter changing requirements and delays, and learn from feedback and mistakes," says Yazdani. "By using your project plan to guide your activities and measure progress, you'll be able to refine and improve your plan as you move through the project, tweaking tasks and deadlines as deliverables are developed."
Download a template to create your project plan and customize it based on your needs.
Example of a simple project plan
A project plan doesn't have to be a complicated spreadsheet with multiple tabs and drop-down menus. It's best to use a project planning tool like Confluence — or at least a project plan template — to make sure you cover every aspect of the project. A simple project plan includes these elements:
Project name, brief summary, and objective.
Project players or team members who will drive the project, along with their roles and responsibilities.
Key outcomes and due dates.
Project elements, ideally divided into must-have, nice-to-have and not-in-scope categories.
Milestones, milestone owners, and a project end date.
Reference material relevant to the project.
A template for a simple project plan would look this: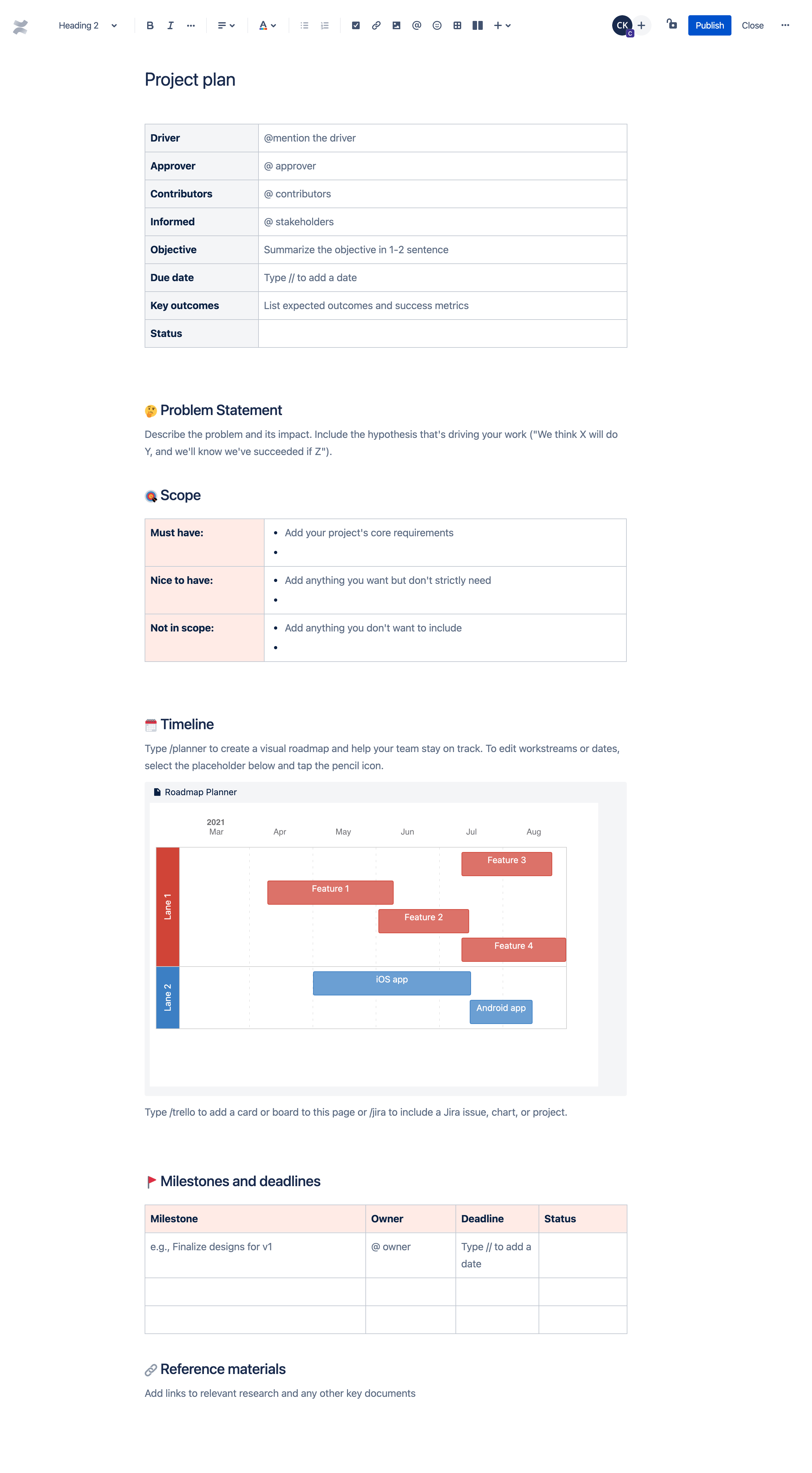 Best Practices For Writing Effective Project Plans
A project planning process can quickly turn into a mishmash of goals and tasks that end up in chaos but these best practices can give you a framework to create a project plan that leads to success.
Use Other Project Plans For Inspiration
There's no need to reinvent the wheel for every new project! Instead, look to other successful project plans for inspiration—and use them as a guide when writing the plan for your project.
"Review templates and plans for similar projects, or for other projects within your organization or industry, to get ideas for structuring and drafting your own plan," says Yazdani.
To get started, use a Trello project management template and customize it for your project plan by creating unique lists and adding cards under each list.
Build your team's ideal workflow and mark each stage of the project plan as a list, with cards for each task.
Get Your Team Involved In The Process
You may be in charge of spearheading the project. But that doesn't mean that you have to—or even that you should—write the project plan alone.
"Collaborate with your project team and key stakeholders on crafting a project plan," says Yazdani. "Input into the project plan supports buy-in to project goals and encourages continued engagement throughout the project."
With Confluence, you can organize project details in a centralized space and build a project plan collaboratively.
Don't Let Perfect Be The Enemy Of The Good
You may be tempted to write (and rewrite) your project plan until you've got every detail mapped out perfectly. But spending too much time trying to get everything "perfect" can actually hold up the project. So don't let perfect be the enemy of the good—and instead of getting caught up in getting everything perfect from the get-go, stay willing and flexible to adjust your project plan as you move forward.
"Focus on outcomes, not plan perfection," says Yazdani. "While it would be awesome for the first draft of our plan to require no changes while also inspiring our team and ensuring project success, our goal shouldn't be a perfect plan. Our goal is a plan that allows us to successfully deliver on project goals. Responsiveness to changing needs and a shifting environment is more important than plan perfection."
Use the right tools to succeed with your project plan
Writing a project plan, especially if you're new to the process, can feel overwhelming. But now that you know the exact steps to write one, make sure you have the tools you need to create a strong, cohesive plan from the ground up—and watch your project thrive as a result.
Atlassian Together can help with project planning and management with a powerful combination of tools that make work flow across teams.
Guide your team to project success with Atlassian Together's suite of products.
---
Good or bad, we'd love to hear your thoughts. Find us on Twitter (@trello)!